Winning with Diversity – Embracing Differences, Celebrating Women
Published 17 Feb 2021 by Singtel's Diversity Council
---
With a community of over 24,000 worldwide, our people are integral to what Singtel stands for and everything we do. We believe in cultivating a diverse, inclusive and collaborative work culture as well as an environment that values differences to be successful in achieving our Future of Work vision.
Our Diversity and Inclusion framework guides us towards this aspiration.
As a leading employer, we strive to support a gender-balanced workforce and offer equal opportunities in all aspects of employment. We continue to focus on increasing the representation of women in senior leadership and key technical roles.
Singtel was one of six Singapore firms' company to be recognised for our gender diversity efforts with our listing in the 2021 Gender-Equality Index by Bloomberg. We were also named as one of the top ten employers for Gender Diversity at The Leonie Awards 2019 and included in the Refinitiv Global Diversity & Inclusion Index 2020.
Check out some of our Singtel's Heroines series here:
Embracing Difference, Celebrating Women
This International Women's Day, #ChoosetoChallenge with us!
Join us virtually and participate in the engaging panel discussions by female leaders and male allies from the tech space who will share their personal experiences and reflections on what it takes to make equal opportunities a reality. Get involved and gain insights on how you can support gender equality!
Key Events
8th March 2021: IWD2021 @ Singtel[Find out more here]
9am – 10am (SGT) | IWD2021 Launch Event [Register Here]
10am – 11am (SGT) | #ChoosetoChallenge Women Leadership Panel Discussion Session [Register Here]

10th March 2021: Panel Discussion: Pushing Boundaries as a Women Leader in Tech
11am – 12pm (SGT) | [Register Here]

18th March 2021: Take Charge and Be FEARLESS in your pursuit
11am – 12pm (SGT) | [Register Here]


Events Details
IWD2021 @ Singtel [Find out more here]
Join us on 8th March and hear from distinguished speakers and a panel of highly accomplished female champions as they share how we are redefining the tech industry and challenging the status quo.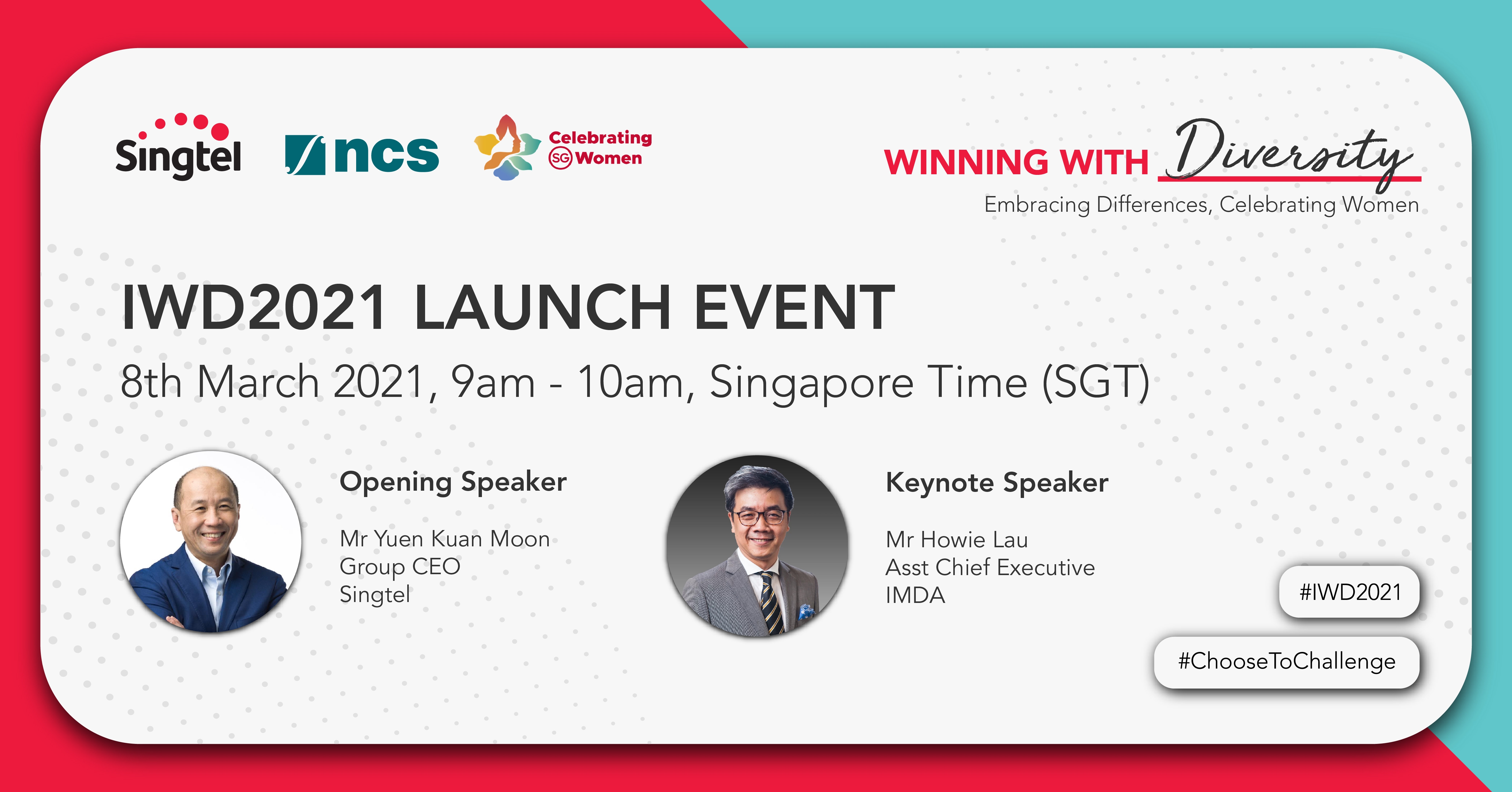 8th March 2021: IWD2021 Launch Event
9am – 10am (SGT) | [Register Here]
Attend our launch event and hear how Singtel is recruiting, nurturing and sponsoring female talent to realise their fullest potential.

Opening Session
Hear from Singtel Group CEO, Mr Yuen Kuan Moon, who will officially launch the Singtel "Winning with Diversity" campaign. Learn about what Singtel is doing to promote workplace diversity and inclusion, and how we are grooming young women in tech to become champions in the industry.
Keynote Session
A huge advocate for Women in Tech, our Keynote Speaker, Mr Howie Lau (Asst Chief Executive, Media and Innovation, IMDA) will share on IMDA's upcoming initiatives and direction in nurturing women in tech. Howie will also tap on his own experience to share how males can also serve as important allies, in the women in tech movement.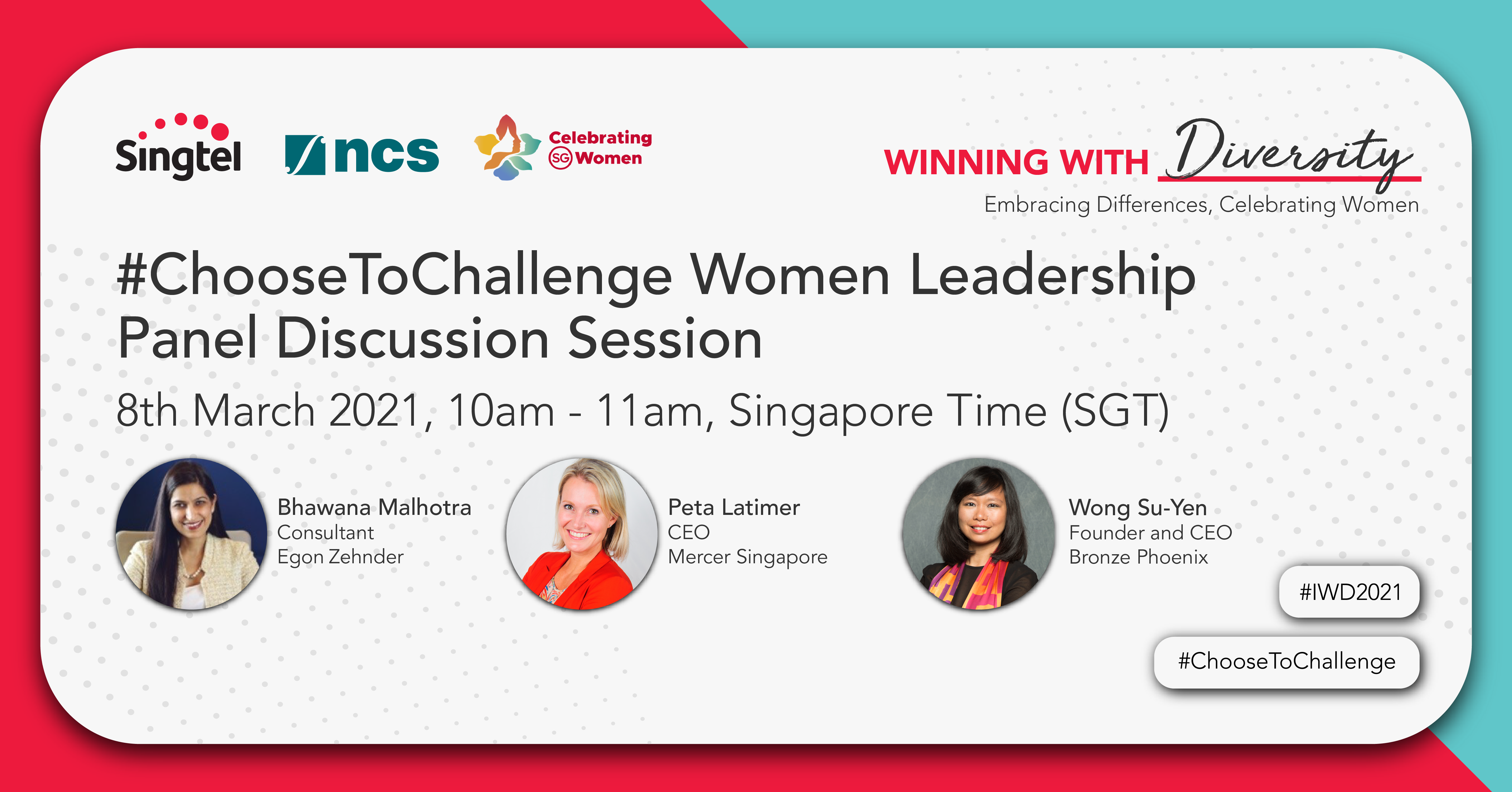 8th March 2021:#ChoosetoChallenge Women Leadership Panel Discussion Session
10am – 11am (SGT) | [Register Here]
Be inspired by the panel of highly accomplished female's industry leaders as they share how they challenge the status quo and navigate through complexity. Hear their personal experiences on driving gender parity and inclusivity in the workplace.
Panellists:
Bhawana Malhotra, Consultant, Egon Zehnder [LinkedIn]
Peta Latimer, CEO, Mercer Singapore [LinkedIn] 
Wong Su-Yen, Founder and CEO, Bronze Phoenix [LinkedIn]
Find out more about the speakers here: International Women Day 2021 @ Singtel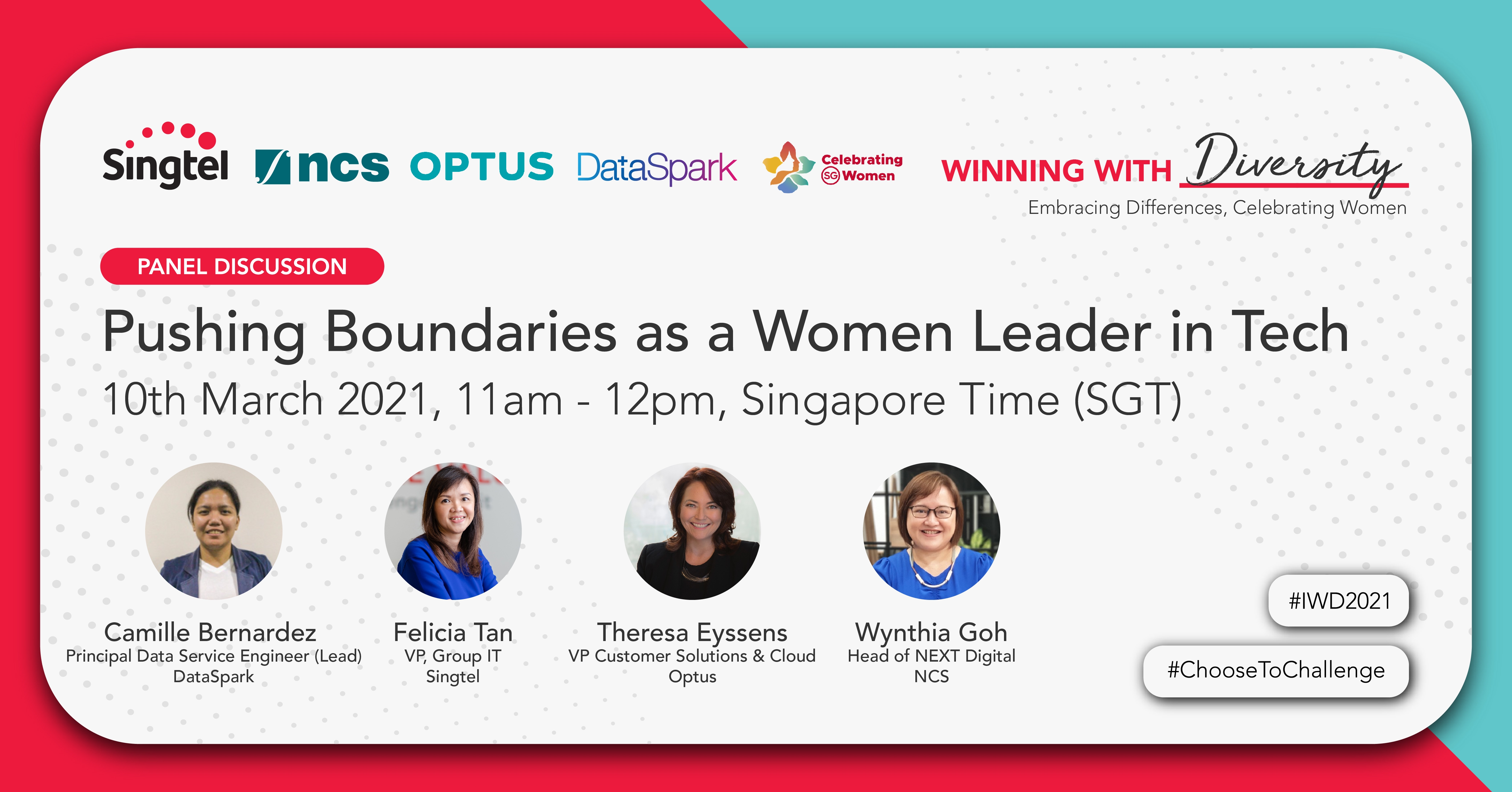 10th March 2021: Panel Discussion: Pushing Boundaries as a Women Leader in Tech
11am – 12pm (SGT) | [Register Here]
Engage our female trailblazers from across the Group in an open discussion on how they forged successful careers in a male-dominated tech sector.
Moderator: Chua Ruo Mei [LinkedIn]
Panellists:
Camille Bernardez, Principal Data Service Engineer (Lead), DataSpark (PH) [LinkedIn]
Camille Bernardez is the Principal Data Service Engineer (Lead) at DataSpark (Philippine).
An experienced Data Service Engineer with a demonstrated history of working in the information technology and services industry, she is skilled in Big Data Technology and Data Warehouse.
Felicia Tan, Vice President, Singtel GIT​ [LinkedIn]
Felicia Tan is currently VP at Singtel Group IT. She leads a team that serves as trusted advisor to the consumer business on IT matters and acts as a strategic conduit by enabling the business to achieve their objectives through effective use of technology.
Prior to joining Singtel, she worked in the applications development environment across various industries, managed end-user environment, established B2B engagements globally and represented Singapore in the RosettaNet consortium.
Theresa Eyssens, Vice President Customer Solutions & Cloud at Optus [LinkedIn]
Theresa leads our newly formed Customer Solutions & Cloud team on Optus Enterprise. Her primary focus is defining and creating the right set of cloud-based products and solutions that will allow Optus to evolve from being the network partner to the digital transformation strategic partner.
Theresa's previous experiences involves selling and delivering complex consulting and SI engagements at IBM as well as leading Customer Success at Salesforce for A/NZ. Her experience consulting to Salesforce's top enterprise cloud clients for the last 4 years has provided her with the insights to better understand why clients are moving to hybrid cloud operating models and what capabilities their organisations need to establish to maximise success in their journey to the cloud.
Wynthia Goh, Head of NCS NEXT Digital [LinkedIn]
A change agent and a practitioner who is passionate about digital and the transformative value of technology, Wynthia Goh heads up the Digital business within NCS NEXT where she leads teams helping customers develop and execute on their digital transformation agenda.
One of the 100 recipients of the inaugural SG 100 Women in Tech, Wynthia has led regional digital teams in Asia Pacific for companies such as SAP, eBay and Nokia. She was also the Chief Digital Officer for Aviva in Asia and set up their Asia digital centre of excellence in Singapore.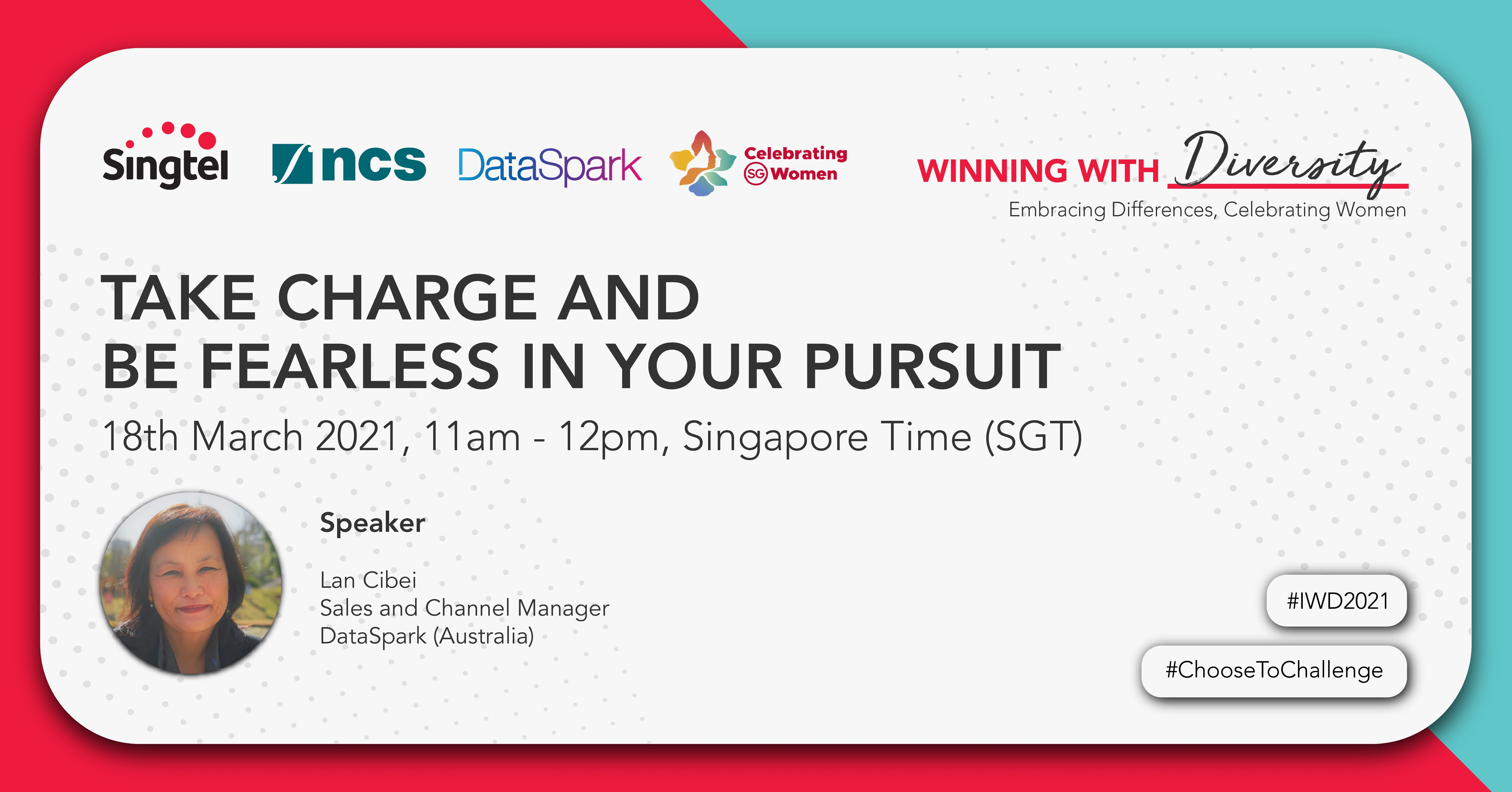 18th March 2021: Take Charge and Be FEARLESS in your pursuit
11am – 12pm (SGT) | [Register Here]
Hear from Ms Lan Cibei, Sales and Channel Manager at DataSpark (Australia) on her 25-year career journey in the tech industry. She has led multi-disciplinary teams to implement technology solutions for global enterprises across key industries and delivered high growth sales revenue for the business across Asia Pacific.

She will be sharing her personal journey and experience as she progressed through her career in the tech industry over the last +25yrs. An interesting array of topics will be covered including:
Workplace gender bias
Achieving work life balance through a flexible working arrangement
How to invest time to network, develop Skills and build personal 'brand'
The need for proactive workplace support for women's career advancement – leadership development & executive mentoring programs
Learnings across the different stages of her career and how best to navigate and be prepared for the transition across the various stages
About the Speaker:
Lan Cibei, Sales and Channel Manager, DataSpark (Australia) [LinkedIn]
Cibei is a Sales and Channel Manager at DataSpark (Australia), where she is helping government agencies and enterprises transform their business through data-driven insights with Big Data.
Possessing business acumen and strong interests in delivering business transformation through technology for clients, she had successfully developed and led many digital solution areas for IBM Australia and the Asia Pacific.
Wait no more! Seats are limited. Register now to join us at Singtel as we celebrate International Women Day this March.
Stay tuned to our social media pages for updates about the events. [Instagram | Facebook | LinkedIn]
Explore a multitude of career opportunities and stories at Singtel Careers. Find out why Singtel is the Employer of Choice* and explore our opportunities here.
*Awarded by HR Fest Awards 2020, which recognises and celebrates outstanding achievements of the region's top leaders, teams and organisations.

#SingtelLife #InternationalWomensDay #CelebratingSGWomen #IWD2021 #ChooseToChallenge #WE #WomenEmpowered