Innovation, Diversity & Inclusion
Watch out, she's got her eye trained on you! - Yap E Fang
Published 03 Sep 2020 by SANDRA AU
---
Self-professed amateur photographer and Practice Lead of NCS GoCloud & NEXT Architecture, Enterprise Architect Yap E Fang has a huge lens, and she's not afraid to train her eye on you.
Armed with her huge wide-angle camera lens, E Fang takes gorgeous shots of star trails in the night sky which makes her being positioned in front of the camera for this article a role reversal of sorts.
"I'm not used to having the camera lens trained on me!" she laughs, "I take the shots, I'm not in the shot!"
But in the daily grind of work, E Fang calls the shots.
The Practice Lead of NCS GoCloud & NEXT Architecture oversees a group of Enterprise and Cloud Architects, tasked with designing the right, implementable architecture for clients to meet their desired outcomes. As part of the team, E Fang is also a champion of NCS' cloud practice, helping to evangelizse cloud adoption across NCS offerings. This means stringing the right teams with the right skills together for delivery to the clients, something that took her years to get the hang of.
Going international
Starting her first stint with NCS as a developer in 2002, E Fang went from working as a developer to taking on the role of architect in 2005, which saw her engaging closely with clients in a project delivery capacity and subsequently in a presales function. She says that she was glad to have guidance and mentorship from head of NCS NEXT Solutions Tay Siow Yen, whom she still works closely with today.
Subsequently, she was given the opportunity for a two-year transfer to Melbourne, Australia, in 2009 to work in the State of Victoria as a technical software delivery manager for the Department of Human Services (think a mix of Singapore's Housing Development Board and Town Councils with a dash of Ministry of Social and Family Development).
"Australia implements social welfare, so the department builds and provides homes for those in need, while our software helps them budget, build and lease out these houses. My job scope involved overseeing the technical delivery of the project from start to finish – from the initial architecture and technical design to the integration and delivery of the software solutions and even maintenance after people have already moved into the said housing project."
Along with an entirely different system also came a newfound appreciation for a different set of cultural values and attitudes.
"Living and working in Melbourne made me cognisant of different working styles and how there's more than one way to peel an orange. Not being in a familiar environment helped me to be less by-the-book, like I am in Singapore, and to appreciate the nuances of both work and social situations."
This was also put to test during E Fang's foray into the world of consulting. In a setting where it's all about engaging with your client, there's something to be said about finesse, as opposed to hard-selling a tech solution to a C-suite executive, no matter how well designed it is.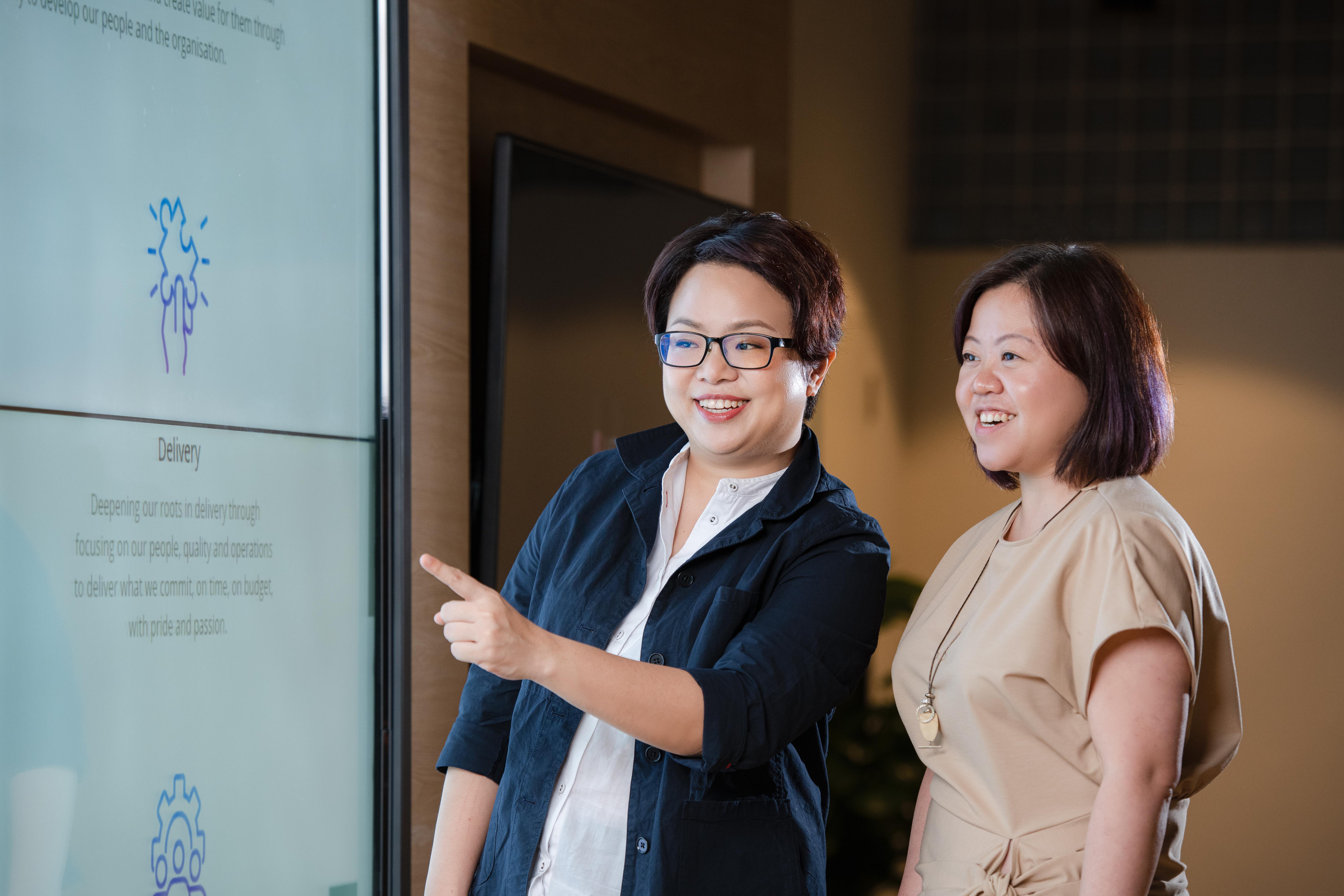 "It's all about the value you bring to the customer. When you understand their challenges, you can offer a viewpoint that brings value to them and their organisation. You also derive more joy knowing the work you do makes an impact. What I learnt from my time in consulting was to really cultivate that sense of empathy."
Now armed with a knack for connecting with people, E Fang has also become a well-heeled business traveler in her own right. Her last work trip saw her attending AWS Re:Invent conference in Las Vegas, being part of a high-tech sharing platform and facilitating the transfer of the latest innovations and technology skillsets to teams in Singapore.
"Plus, I got to visit the Grand Canyon afterwards and took all my camera equipment and lenses to shoot the snow-capped mountains. Yes, it snows in the Canyon in December!" she adds with a grin.
How gender ties in with the workplace
To navigate cultural sensitivities is one challenge. In today's workplace, there's a degree of sensitivity in labelling gender as an 'issue' in the workplace, particularly the misconception that women lack the ability to be as successful as their male counterparts.
When I raised this point to her, E Fang looks thoughtful.
"From what I've seen of Singtel and my fellow colleagues, we are outcome-driven and more focused on who can do the job. As you get more work and responsibilities, it's a sign that your bosses have trust and confidence in your abilities. Yet at the same time, we must be cognisant that for our colleagues with families at home, it's a stressful reminder of the hours away from their family and the need to balance that."
E Fang is acutely aware of these very real challenges that her colleagues are facing. In her own capacity, she cares for her team by having an open conversation if the need to work overtime arises. If there's going to be an impact on the family, E Fang will look at a manpower reshuffle within the team so that it works out for everyone.
"What I appreciate about Singtel is that it takes a very much best-person-for-the-job kind of approach. But at the same time, I think it's important and necessary to take away the fear that pursuing your career will come at the cost of your family."
"Ultimately, the task of creating a more conducive and equitable work environment lies with everyone. Apart from providing amenities such as childcare and clinic facilities within office premises, it's important for colleagues to have a sense of greater awareness that they can support one another in their personal capacity."