Where Biology, Family and Career Intersect - Melissa Khoo
Published 16 Mar 2020 by Sandra Au
---
Melissa speaks with a candor that takes you by surprise. This could be attributed to her confidence polished over the years as one of Singtel's best enterprise account managers. Twelve years of hard work has seen her going from handling small-time, entry-level accounts to managing Commercial and Government Enterprise customers with eye-watering figures at stake (tens of millions, anybody?)
But Melissa's sincerity also comes from having confronted and finding strength in adversity. Having had to watch her mum suffer from undiagnosed schizophrenia while growing up, she's no stranger to personal challenges.
"Our relationship is much better now. My mum is now well with the help of medication and takes joy in grandparenting my little one."
Bringing the personal into the workplace
Holding her now eleven-month-old, Jun Rui, Melissa flashes a brilliant smile.
"I never knew my heart could hold so much love till I held my little boy in my arms. I am so gratified to be a mother now and I adore spending little moments with him, watching him grow.
In 2018, Melissa made the decision to try in vitro fertilisation (IVF) treatment after having difficulty conceiving. Then came the delicate matter of getting the green light from her employers, since the treatment required significant time and commitment on Melissa's part and her colleagues had to cover her work.
It may seem almost inexplicable for reproductive rights and bodily autonomy to be contingent on external factors. To Melissa, the idea of bringing something so personal and private to the professional sphere was hugely daunting. What if her bosses did not react positively?
In such a high-stakes situation, Melissa was hugely relieved and heartened to find that her direct supervisor and managers were all incredibly supportive.
To chiong1 or not to chiong
40 is the new 30. Your body is a temple. Positive affirmations, positive visualisations, and… exchanging fertility doctor recommendations over lunch? Women face enormous pressure to get the best of all worlds.
When striving for self-actualisation and fulfilment as both a mother and a working professional, women grapple with fulfilling one dream at the cost of another.
Melissa recounts a couple of ladies among her social circles who faced similar fertility issues, and she had obtained the recommendation for her fertility doctor through a cousin. It was reassuring to know that she wasn't alone in the uphill struggle to conceive. Being in her late 30s, Melissa was confronted with a 40% chance of a successful pregnancy and delivery. Her first round of IVF was unsuccessful, and her health suffered as a result.
She consequently took a month off work to recuperate both emotionally and physically before trying IVF for the second time, which very happily resulted in her clothes never being drool-free again. (Thanks little Jun Rui!)
During her pregnancy, Melissa took care to manage the onset of gestational diabetes2. She was required to have a microchip implanted in her arm and make bi-weekly clinic visits to monitor her blood sugar levels. She was working at this time was extremely relieved to receive support and understanding from her colleagues and bosses.
One of her initial fears was of her career reaching a plateau and being passed over for opportunities due to her constraints in committing as much time to work and not being able to chiong as much as she did before, in a society that glorifies long hours as an ideal work ethic.
However, Melissa was heartened by the fact that her bosses continued to believe in her growth and ability despite her temporarily needing to spend less time at work.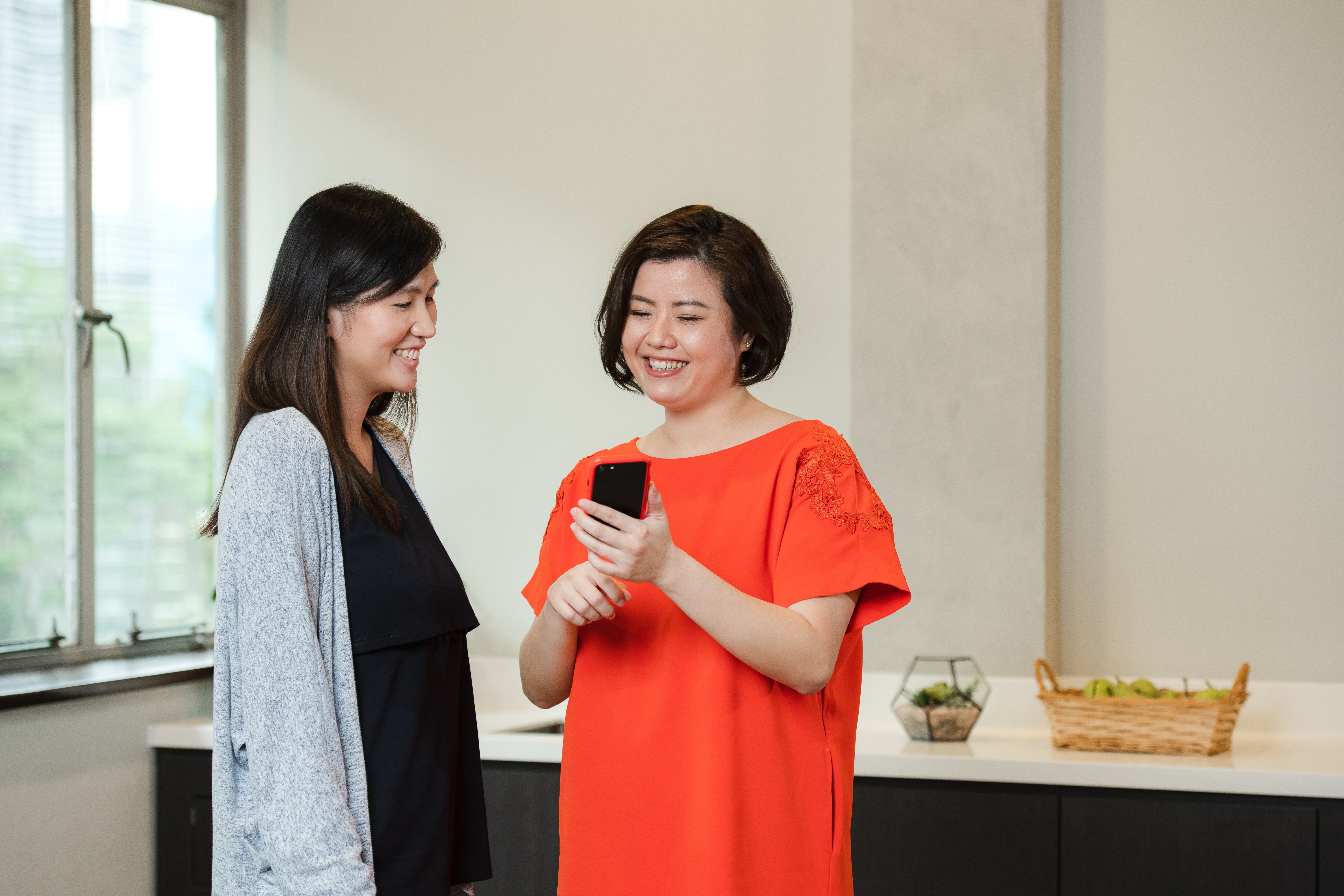 Love and Family
There's no going around it – women today still teeter on the fine tightrope of career and family. But what has made Melissa's balancing act much easier is an environment that values not only its employees' professional successes, but also their personal development.
One of Melissa's fondest memories is being part of the annual Singtel carnival, which sees 1,700 employee volunteers hosting over 1,400 students from 14 special education schools for a day of fun and games. She recalls how much she enjoyed being a staff chaperone and seeing the smiles on the students' faces at the food, games and entertainment provided.
"Every part of my journey in Singtel so far has really shown me that the company has a heart," she says.
"In the next 50 years to come, I hope organisations will continue to help women navigate professional success and family and ultimately see more female representation in senior roles."
1 'Chiong' is a colloquial term used to refer to devoting all of one's time, energy, focus, and attention to doing or completing something.
2 Gestational diabetes refers to any degree of glucose intolerance with the onset of pregnancy