International Women's Day 2021 @ Singtel
Published 24 Feb 2021 by SINGTEL'S DIVERSITY COUNCIL
---
IWD2021 @ Singtel
This International Women Day 2021, we #ChooseToChallenge!

From challenge comes change. Join us on 8th March and hear from distinguished speakers and a panel of highly accomplished female champions as they share how we are redefining the tech industry and challenging the status quo.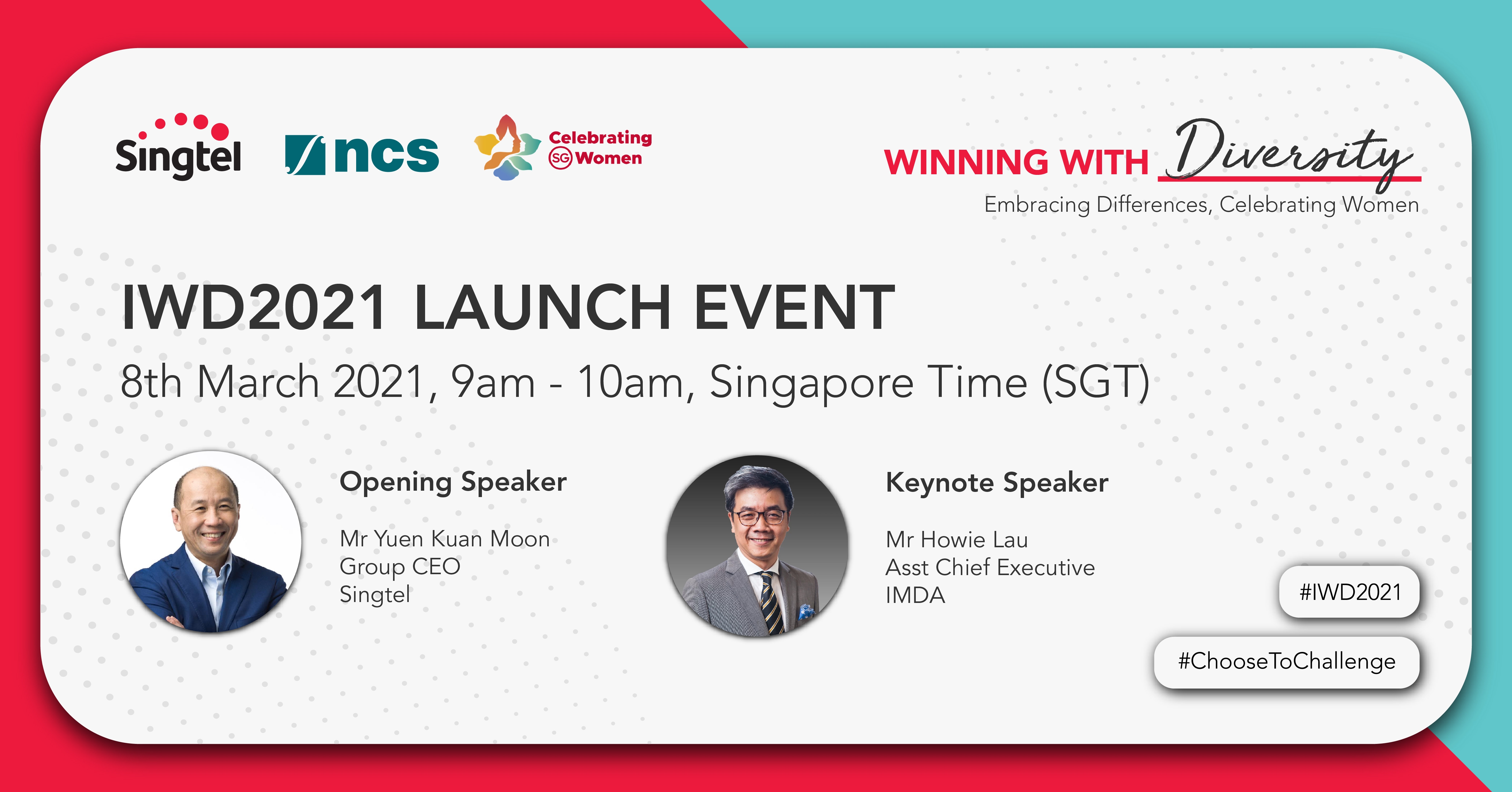 IWD2021 Launch Event
8th March 2021 | 9am -10am (SGT) | [Register Here]
Attend our launch event and hear how Singtel is recruiting, nurturing and sponsoring female talent to realise their fullest potential.

Opening Session
Hear from Singtel Group CEO, Mr Yuen Kuan Moon, who will officially launch the Singtel "Winning with Diversity" campaign. Learn about what Singtel is doing to promote workplace diversity and inclusion, and how we are grooming young women in tech to become champions in the industry.
Keynote Session
A huge advocate for Women in Tech, our Keynote Speaker, Mr Howie Lau (Asst Chief Executive, Media and Innovation, IMDA) will share on IMDA's upcoming initiatives and direction in nurturing women in tech. Howie will also tap on his own experience to share how males can also serve as important allies, in the women in tech movement.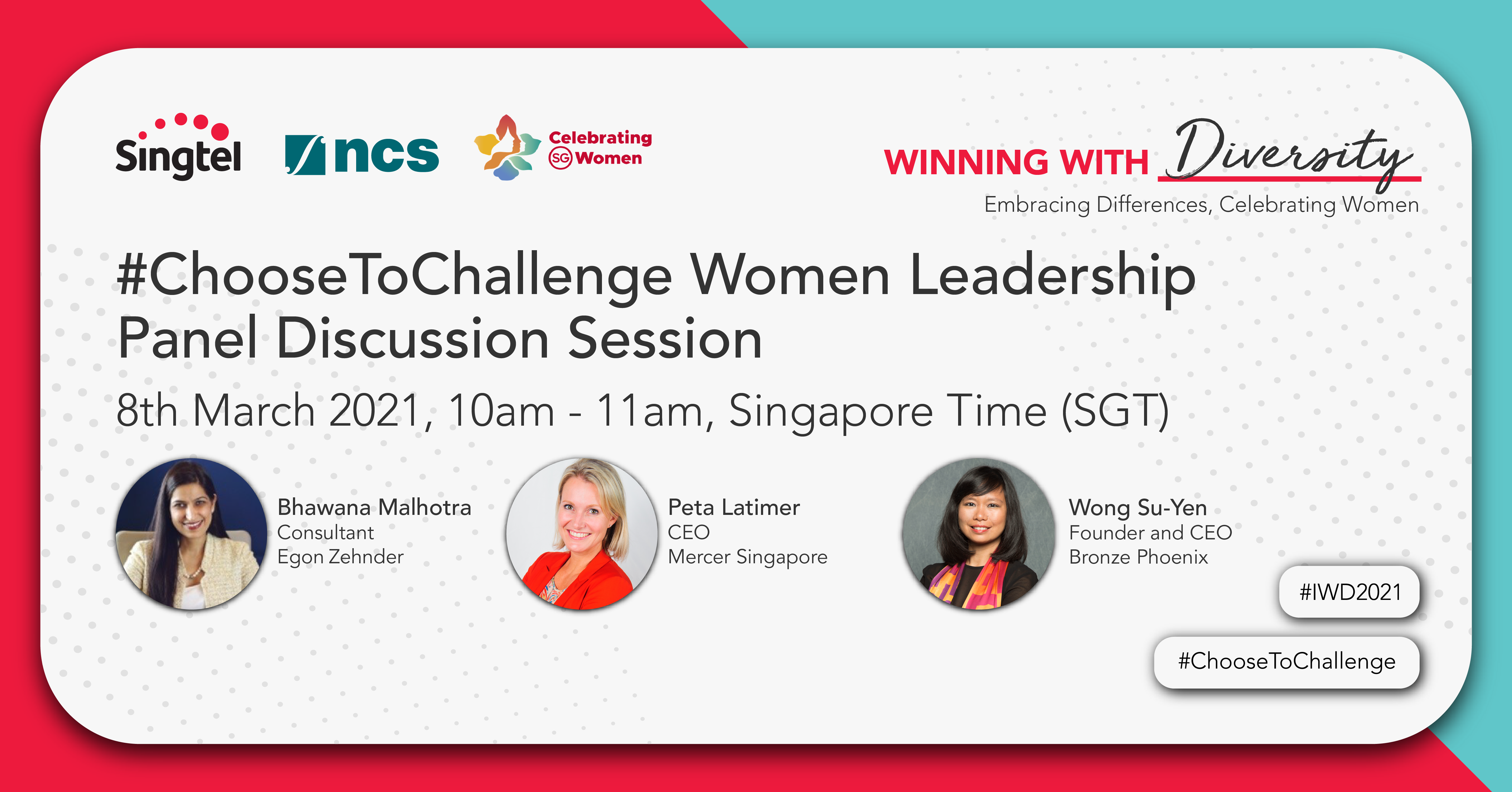 #ChoosetoChallenge Women Leadership Panel Discussion Session
8th March 2021 | 10am -11am (SGT) | [Register Here]


Be inspired by the panel of highly accomplished female's industry leaders as they share how they challenge the status quo and navigate through complexity. Hear their personal experiences on driving gender parity and inclusivity in the workplace.

About the Speakers

Yuen Kuan Moon, Group CEO, Singtel [LinkedIn]
Mr Yuen Kuan Moon, 53, was appointed Group CEO on 1 January 2021. He has overall responsibility for the Group's businesses.
He joined Singtel in 1993 and has held several leadership roles in Singtel including CEO Consumer from June 2012 to December 2020 as well as Group Chief Digital Officer role from 2018 to December 2020. He was appointed Group CEO designate on 1 October 2020.
Moon sits on the boards of key subsidiaries of the Singtel Group and serves on the Board of Commissions in Telkomsel. He is a board member of GSMA, Singapore Institute of Management Group Limited and SkillsFuture Singapore. He is also a member of the Advisory Council of the Lifelong Learning Endowment Fund and the Digital Readiness Council at the Ministry of Communications and Information.
Moon holds a First Class Honours degree in Engineering from the University of Western Australia and a Master of Science in Management from Stanford University.

Howie Lau, Asst Chief Executive, Media and Innovation, IMDA [LinkedIn]
Howie Lau is the Assistant Chief Executive at Infocomm Media Development Authority (IMDA). The Media & Innovation Group comprises of Media Industry Development, Strategic Capability Development, Public Service Broadcasting, Innovation & Tech Ecosystem, Singapore Film Commission and Asia Tech Programme Office.
Prior to his appointment, Howie was the CMO and head of Consumer business at StarHub where he was responsible for the Mobility, Pay TV and Broadband businesses as well as charting StarHub's brand and marketing. Before that, he was the Vice President Corporate Development of Lenovo where he led Lenovo's global end-to-end post-merger management and related merger and acquisition matters. He was also Lenovo's CMO for Emerging markets which spans China, India, Eastern Europe, Russia, South America and South East Asia.
He has more than 25 years of experience leading teams, managing P&L, corporate development and marketing across many countries in Lenovo and IBM. He serves as the Immediate Past President of Singapore Computer Society, the Governing Council for Singapore Institute of Directors and the board of Singapore Science Centre.
Howie holds a Bachelor of Business Administration from the National University of Singapore and currently pursuing a Masters in Asian Art History (Lasalle/Goldsmith UK). He has received the Philip Kotler marketing excellence award, NUS outstanding alumni award and NUS Business School Eminent alumni award.


Bhawana Malhotra, Consultant, Egon Zehnder [LinkedIn]
Bhawana Malhotra, based in Singapore, has deep expertise in health care and guides clients in the health, consumer, and technology sectors. As a member of Egon Zehnder's Health, Consumer, Services, and Technology and Communications practices, she advises on talent engagement, executive coaching and development, culture, and organizational design. Bhawana maximizes the effectiveness of product launches and strengthens marketing and sales force execution.
Before joining Egon Zehnder, Bhawana held several roles at Novartis including Commercial Execution Excellence Lead for Asia, and Head of Insights and Analytics for the U.S. She also helped launch a biologic in the U.S. for patients with certain rheumatologic conditions. Previously, she was an Associate Partner at McKinsey & Company, assisting clients in the pharmaceutical, medical devices, and health-care services sectors. Bhawana began her career at Arthur Andersen in the audit and business consulting group in India.
Bhawana has a Bachelor of Commerce with honors from the Lady Shri Ram College for Women of Delhi University and an MBA in Strategy, Finance, and Operations at the Wharton School of the University of Pennsylvania. She became a chartered accountant at the Institute of Chartered Accountants of India.

Peta Latimer, CEO, Mercer Singapore​ [LinkedIn]
As CEO for Mercer Singapore, Peta is responsible for the day-to-day business and financial management of Mercer to assure we exceed our client's expectations and deliver upon our brand promise of creating healthy, wealthy and talented workforces across the region. Supported by a strong Country Leadership Team, Mercer Singapore continues to seek inorganic opportunities and regional expansion to drive growth, regularly reviewing business portfolio mix, and fostering a strong culture of people excellence to help clients tackle the problems of today in preparation for tomorrow.

Separately appointed as the Country Corporate Officer for Marsh & McLennan Group of Companies, Peta chairs Singapore's Country Steering Committee comprising of all four businesses to optimize Marsh & McLennan's total portfolio of Risk, Strategy & People capabilities for greater market impact.

Outside of Marsh & McLennan, Peta is the Vice Chair & Governor for the American Chamber of Commerce Singapore and is an active member of Women Corporate Directors.

With many years spent advising multinationals on change and workforce transformation in Firms like KPMG & IBM, Peta is passionate about making a difference and always looks to drive high performance through people in an authentic and sustainable way. This stems from her background in Organizational Psychology and experiences of living in many different parts of the world

Wong Su-Yen, Founder and CEO, Bronze Phoenix​ [LinkedIn]
Su-Yen is a sought-after professional speaker and facilitator who brings extensive experience engaging Board, C-suite, and ministerial-level audiences. Her firm, Bronze Phoenix, is a premier provider of solutions that help leaders and organisations reinvent for the future of work.

She is a highly-rated guest lecturer and visiting expert at universities such as IESE Business School (Spain), INSEAD (France), IPADE Business School (Mexico), Singapore Management University, and Yale University (USA). She is also an Adjunct Professor at the National University of Singapore where she teaches a Masters course on Global Leadership.

An accomplished multicultural business leader who has lived and worked globally, Su-Yen is adept in cross-cultural settings and highly experienced at bringing people together from diverse backgrounds. She is equally comfortable in intimate settings and large-scale events, and she tailors her approach for each specific audience so as to achieve the session's objectives.

Su-Yen is Chairman, Singapore Institute of Directors, and an experienced board director. She currently serves on the Boards of several public, private, and not-for-profit organisations in Australia, India, Indonesia, Myanmar, Singapore, and the United States, across a range of industries including telecommunications, media, professional services, agriculture, real estate, education, and FinTech / HRtech.

Over nearly three decades, she has helped some of the world's largest, most innovative, and complex organisations navigate organisation transformation at the intersection of technology, strategy, and people. She has worked with an illustrious list of clients (including many of the Fortune 500) such as Accenture, AIA, Alibaba, the ASEAN Secretariat, AT&T, Bank of America Merrill Lynch, Baxter, Becton Dickinson, Caltex, Citibank, China Mobile, DBS, Deutsche Bank, ExxonMobil, the Government of Singapore, Hitachi, Hewlett-Packard, Hyatt, IBM, JP Morgan, KPMG, Microsoft, Moet Hennessy, Oracle, Schneider Electric, SK Telecom, UOB and UPS.

Previously Su-Yen was CEO of the Human Capital Leadership Institute which was established to develop global leaders with a strong understanding of leading in Asia, and Asian leaders with the ability to lead on the global stage. Prior to that, she was Chairman (Singapore) for Marsh & McLennan Companies, and Senior Partner and Managing Director, Southeast Asia at Mercer. Earlier, she was Asia Managing Partner for the Communications, Information & Entertainment practice at Oliver Wyman.

Su-Yen is often featured in print, broadcast and online media such as CNBC, Channel News Asia, The Wall Street Journal, and Bloomberg. She is a published author of an Amazon Bestseller -Unleash Your Voice: Powerful Public Speaking for Every Woman, an award-winning photographer and earlier in life, a musician.

Su-Yen is an avid adventure traveller and has ventured to some of the most remote parts of the world, including Antarctica and Timbuktu. She is currently training for Everest Base Camp in support of mental health and resilience.

She is an active member of Women Corporate Directors, and the Young Presidents' Organization. She holds a B.A. (summa cum laude) in music and computer science from Linfield University, and she graduated with an M.B.A. from the University of North Carolina at Chapel Hill.
Wait no more! Seats are limited. Register now to join us at Singtel as we celebrate International Women Day.

To find out the exciting arrays of events planned, check out: Winning with Diversity – Embracing Differences, Celebrating Women.
Stay tuned to our social media pages for updates about the events. [Instagram | Facebook | LinkedIn]
Explore a multitude of career opportunities and stories at Singtel Careers. Find out why Singtel is the Employer of Choice* and explore our opportunities here.
*Awarded by HR Fest Awards 2020, which recognises and celebrates outstanding achievements of the region's top leaders, teams and organisations.

#SingtelLife #InternationalWomensDay #CelebratingSGWomen #IWD2021 #ChooseToChallenge #WE #WomenEmpowered