Learning, Early Careers, Singtel Management Associate Programme, Community
The Smallest Footprint - Alvin Seo
Published 14 Aug 2019 by Isabelle Yuen
---
"It is definitely eye-opening to work in another country, getting the opportunity to learn about their culture, working styles and norms. Our colleagues at Optus are also very open, friendly, and often go the extra mile to make me feel warm and welcome during my stay here," Alvin Seo, Environmental Manager, Optus.
Alvin joined Singtel in 2015 as Management Associate where he completed rotations in both Singtel Innov8 and Group Sustainability. He is passionate about corporate sustainability and is currently the Environmental Manager at Optus, our wholly-owned subsidiary of Singtel in Australia.
Outside of work, as part of his graduate environmental studies in National University of Singapore, Alvin was awarded the Shell Best Dissertation Award 2018 on the topic of "Exploring the Potential of Corporate Philanthropy in Asia for Sustainable Development". Last September, he was selected from over 13,000 applications from 51 ASEM (Asia-Europe Meeting) Partner countries to represent Singapore for the 22nd ASEF Summer University (ASEFSU22): Sustainable Tourism: Youth Driving Green Growth in 2018. He was also a panel speaker at the regional United Nations Global Compact Network Singapore (GCNS) Youth Form 2018 in Singapore theme of "Youth Involvements in Sustainable Development Goals (SDGs) in ASEAN" to share about his experiences in advancing the SDGs in Singtel and in the community.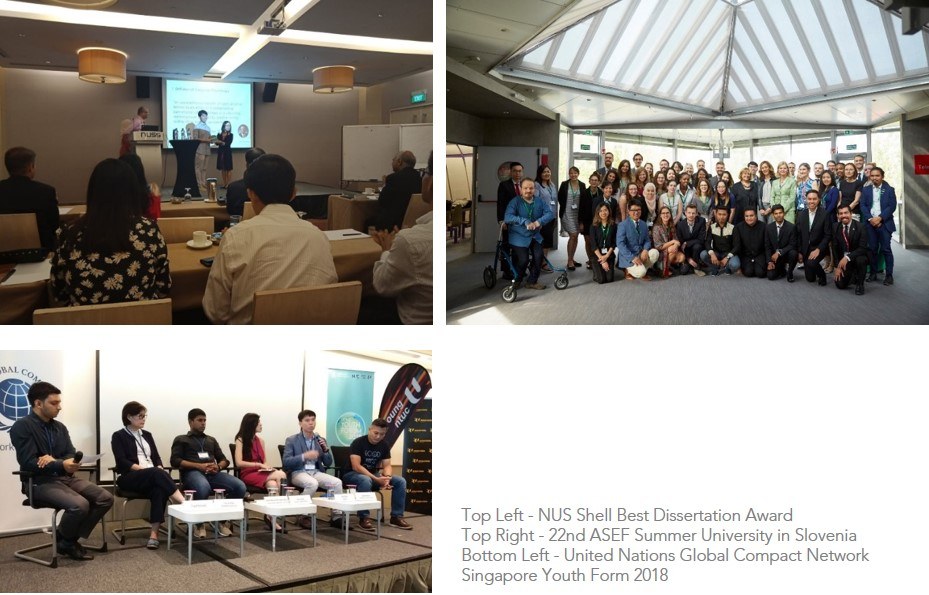 We had a chat with him about his role and current stint at Optus.
Q. Tell us about your current portfolio in the Sustainability team at Optus
A. I lead our environmental sustainability initiatives at Optus, which is aligned with our Group strategy to leave "the smallest footprint". We are committed to minimising our environmental impact and building operational resilience to the effects of climate change for our business and the communities by advocating for climate action and product stewardship. Readers can find out more about Optus' overall sustainability strategy and initiatives here.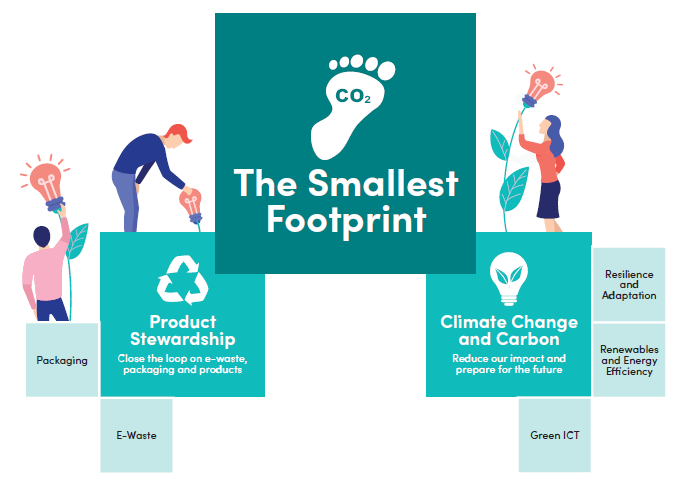 Q. What's is the difference between Asia and Australia when it comes to environmental sustainability?
A. Compared to Asia, I would say that Australia has much stricter environmental regulations, standards and practices that they need to adhere to; such as sustainable packaging, carbon reporting and waste management.
In daily life, I observed that Australians are also more green-conscious in their behaviour with many restaurants adopting more environmentally-friendly practices eliminating one-use disposables such as plastic straws, cups and utensils. Many supermarkets, if not all, also charge for plastic bags and encourage customers to Bring Your Own Bags (BYOB) and many states are starting to ban the use of single-use plastics. You can also easily find affordable eco-friendly and organic products in many places, making accessibility to be "Green" to be much easier.


Q. How do you see the Group responding to and preparing for climate change?
A. The Group's journey in climate action and environmental sustainability began much earlier, as we recognised that results can be achieved overnight (see infographic below). We continue to adopt a holistic approach in addressing the threat of climate change through mitigation and adaptation efforts, focusing on improving our energy performance and efficiency measures, as well as building resilience across our operations.
We also provide a progress update of our ongoing efforts and results from organic energy efficiency initiatives in our annual sustainability report. However, these efforts alone will not be able to move the needle in achieving a significant reduction in our carbon footprint. Hence, we are currently requesting for proposals from suppliers of larger scale sources of renewable energy over a longer period of time leading up to 2030, and aligned with our Science Based Targets initiative (SBTi) targets.
Just last month, as part of the pioneering group of 28 global companies announced on 24 July 2019 by the UN Global Compact, the Science Based Targets initiative (SBTi) and the We Mean Business coalition, we are the first Southeast Asian firm to commit to new and more aggressive climate targets to keep global temperature increases within 1.5°C above pre-industrial levels and reach net-zero emissions by no later than 2050. Previously, we were the first company in Asia outside of Japan to have our absolute carbon reduction targets for 2030 approved by the Science Based Carbon Target initiative in October 2017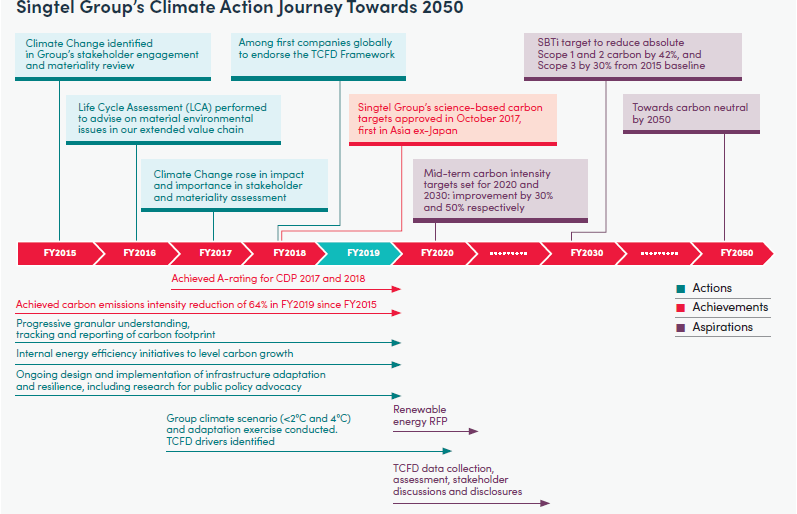 Q. What are some of the interesting initiatives that you had led so far in your stint in Optus?
A. This is a challenging question indeed! To me, the whole spectrum of environmental sustainability practices cuts across almost every aspect of the organisation and has tremendous impact on business packaging, employee engagement, energy consumption, facilities management, green procurement, network resilience and beyond.
During my time here, I am excited to help facilitate shared value creation projects, which is the leading model for the global practice of corporate sustainability to drive win-win situations for the business and the community. For example, I helped to form several environmental working groups in areas of sustainable packaging, facilities management and employee experience, where I worked with employee advocates to continue to embed environmental sustainability in the different aspects of the organisation.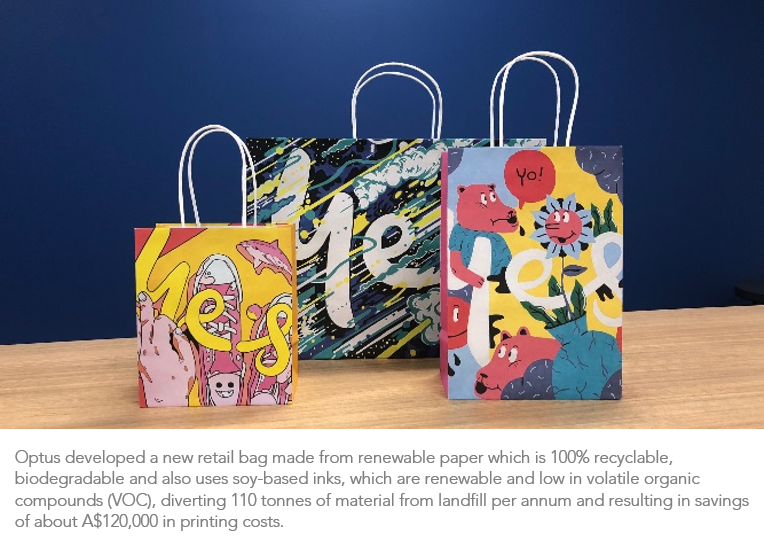 From our sustainable packaging work for the past few years (above) to reduce our environmental impact, this is also a perfect case in point to show that being 'green' does not need to cost more, in fact, it can result in cost savings!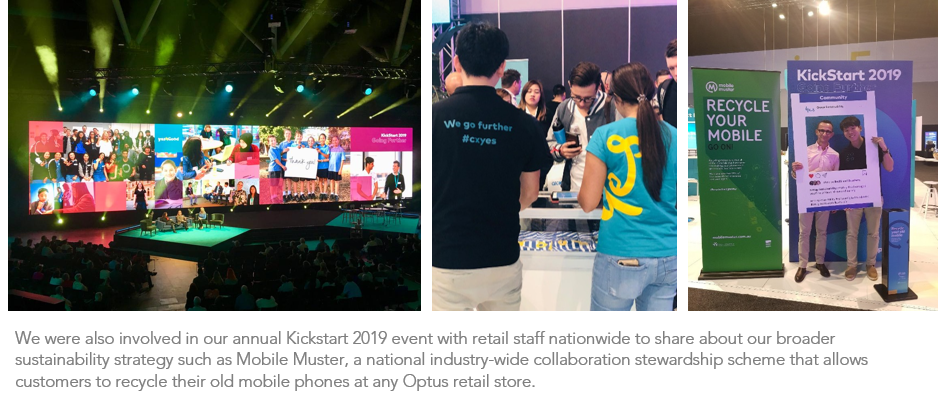 Working with our retail colleagues on our Mobile Muster initiative, we managed to divert more than four tonnes of e-waste or 53,437 handsets and batteries from landfill in Australia. This helped save 10 tonnes of carbon emissions and converse 50 tonnes of mineral resource. With landfills around the region fast filling up and tighter cross-boundary acceptance of the quantity, standards and contamination level of waste imports, it is important for businesses to focus on product stewardship and life cycle management in preparation for future regulations and mitigate business operational risks.
Lastly, I helped to kickstart Optus Project LESS, an internal initiative to drive the environmental agenda collectively across the organisation by forming a taskforce with passionate employee advocates. This project stemmed from our belief that everyone can contribute and play a key role in environmental sustainability through both their roles in the business and as an individual consumer.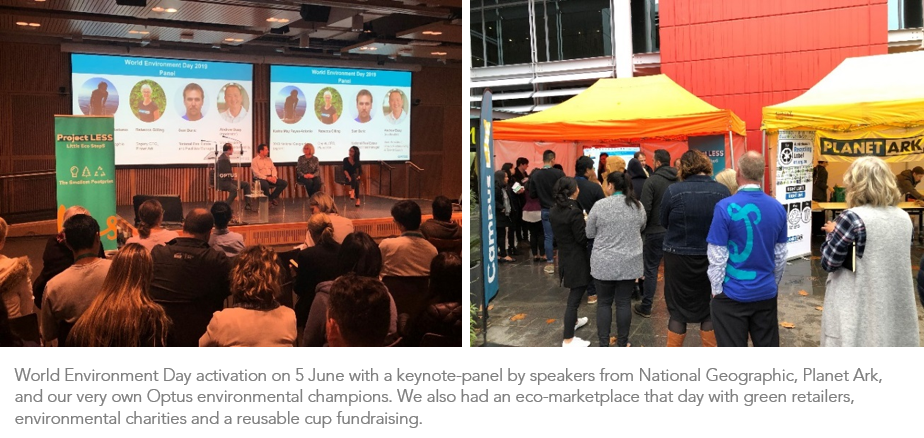 Q. What is the greatest takeaway from your stint at Optus?
A. Learning about a different culture has been immensely gratifying! While I have undertaken overseas exchanges and internships during my undergraduate days, it is definitely eye-opening to be working in another country and learning about their culture, working styles and norms. People at Optus are also very friendly, willing to go the extra mile and open to share, which makes my stay here very warm and welcoming!


Q. What surprised you when you started your stint in Optus?
A. 'Lunch & Learn' sessions! Compared to Singapore where food is relatively affordable at our local outdoor food centres, dining out in Australia is rather expensive so I've learnt from my colleagues to cook and meal prep too. It's a pretty common practice, so teammates from a department will sometimes bring their lunches and gather together for a Lunch & Learn session to learn about topics that are related to their work or just for personal interests.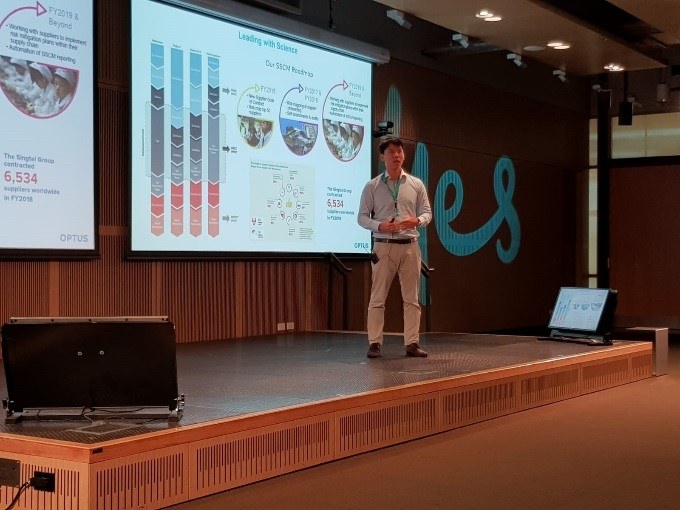 Q. How are you managing work and life with this assignment?
A. At Optus, we are currently embarking on a company-wide digital learning programme called Ability to Execute (A2E) Essentials, a behaviour change programme that focuses on practical tools and techniques to help our people embed effective practices into the way we work.
One of the important themes that we learned about was personal resilience and why it's important for us to build stronger personal resilience and have a positive outlook at times. To do so, we learnt how amidst the busyness of work, we need to look after ourselves by managing our energy levels during change as well as develop more self-awareness about what boosts and drains our energy.
Such programmes have definitely helped me cope with this 'stretch' assignment as it is a challenge to assimilate and integrate into a different culture and build my expertise in this new portfolio. While I endeavour to spend more time outside of working hours to bridge the learning gap, I have also learnt how to consciously to take breaks and energy boosters by trying new cuisines (yes I am a foodie!), experience new sights, culture and sports and even tried fruit picking! These activities definitely are my energisers which help me sprint further during the week


Q. Tell us about volunteerism in Optus and your volunteering experiences.
A. Volunteerism at Optus is huge, just like at Singtel, and it's one of the top drivers of employee engagement in the organisation. In Optus, we aim to support those who are most vulnerable and disadvantaged in our society thrive and belong, with a particular focus on youth. Our community strategy and initiatives are focused on core areas where we believe we can make the biggest impact: Digital Citizenship; Education & Employment; Inclusion & Wellbeing; and Engaging our People.
For me, besides leading our internal Project LESS environmental advocacy taskforce, I also support and take part in our team's and wider community initiatives. For example, our team volunteered for half a day at Foodbank where we helped to pack and sort food at their premise to support their efforts to feed those in need across New South Wales and the Australia Capital Territory. We also supported the Macquarie Business Park Community Walkathon last year together with over 700 employees in the business district. Together we raised over $32,000 for more than 600 children in Ryde for them to receive books and improve early literacy in the area.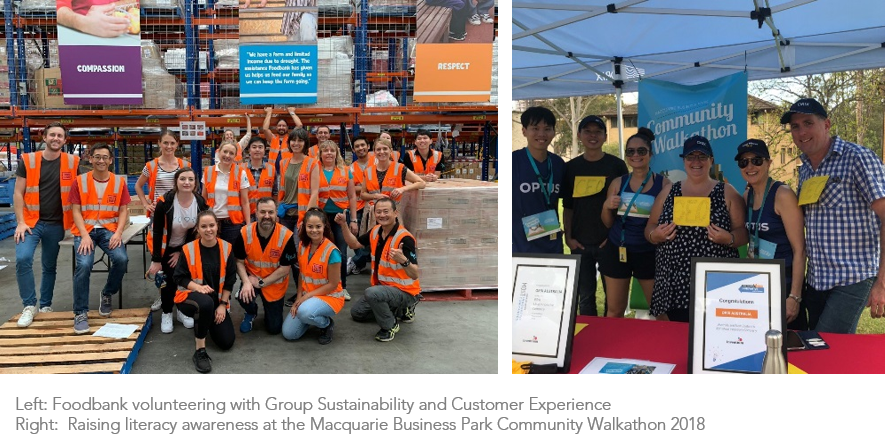 Q. Any other thoughts that you'd like to share?
A. In the last four years of my career with the Group, I am grateful to have been given many opportunities as a fresh graduate to undertake diverse roles and lead projects in corporate venture, social innovation and environmental sustainability. My current role in particular allows me to learn, grow and create large-scale impact for the environment and community beyond what I could have imagined. All of this would not have been possible without the Singtel Management Associate programme supported by the Talent Management team, and also the mentorship, guidance and support from my leaders in Optus and Singtel.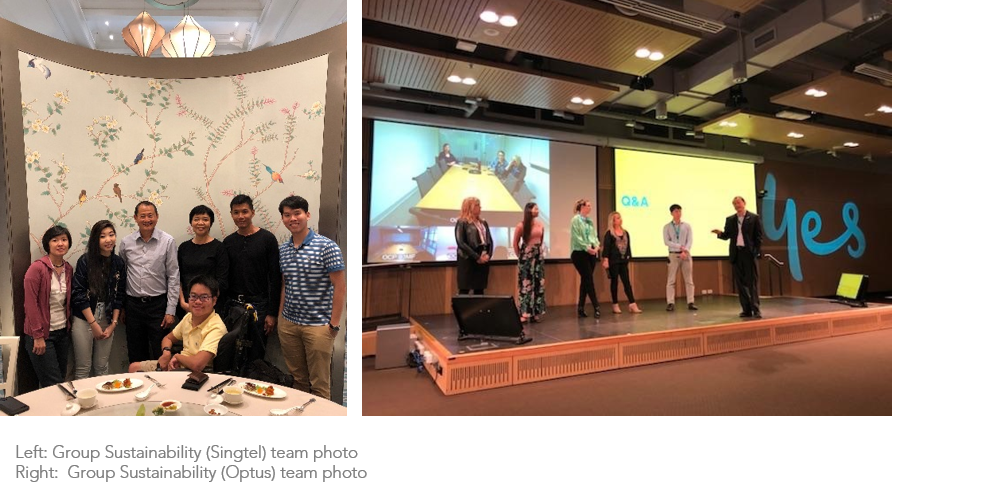 As a leading global company with many experienced talents within the Group and our regional Associates, I was fortunate to work alongside my teammates and collaborate with many other departments to drive the sustainability agenda, and learn from their open sharing across different disciplines and areas of expertise across the big Singtel family. It's a great place for those who also wish to pursue diverse opportunities for growth and learning!