Early Careers, Singtel Management Associate Programme
A Marvel in the Making - Anushka
Published 14 Dec 2021 by Soon Ping Huay
---
Imagine transforming a system that produces a quotation in three weeks into one that only requires a few minutes. Imagine the increase in efficiency and productivity we all could have if every system was that fast. This was the big project that Anushka Gaikwad, a first year Management Associate at GE Strategy worked on when she first joined Singtel.
Project Marvel
Definition (Noun): revamping a quotation system to reduce the weeks-long cycle time to a mere couple of minutes.
"As part of Project Marvel, I was working on initiatives to enhance user experience when raising quotes and orders for the enterprise business customers"
Project Marvel was heavy on collaboration with other Business Units for its success, such as Sales, Customer Solutions and Pricing teams, just to name a few. Understanding their pain points was key as they are users of the system.
Anushka worked on automating the quotation process and helped improve the user interface of the system to enable instant quotations for the sales team. Brainstorming with the team, conducting data analysis, dashboarding to monitor results and driving data-driven actions in the right direction were all part of the process.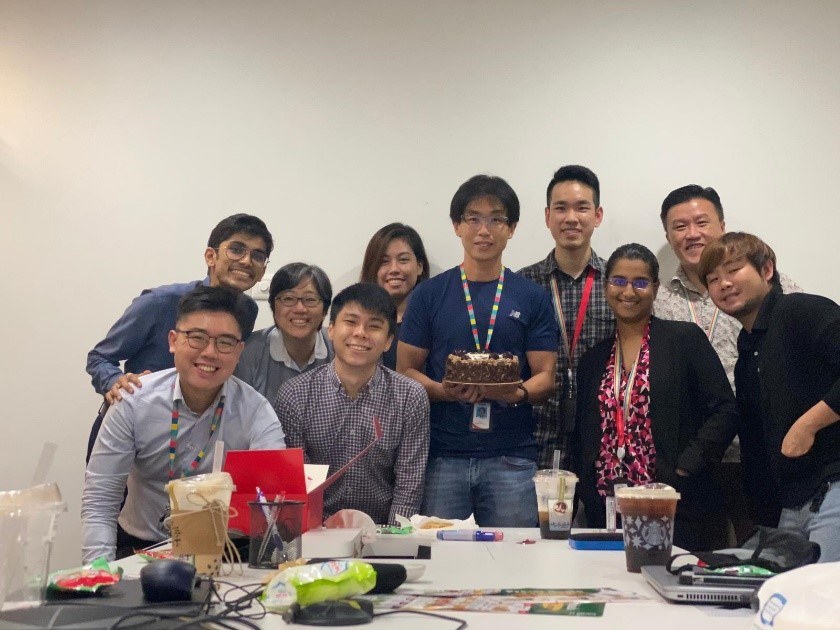 The results? Processes were streamlined, new templates were crafted for handling bulk quotations, approximately 88% of information collected was rationalised. This meant that the number of fields users need to fill was reduced. This in turn helped reduce the room for error, time and effort needed to produce a quote!
The Strongest Foe
The toughest adversary was herself. The expectations placed upon her to learn and understand the existing systems, processes and problems without any prior background, as well as to network and communicate as a soft-spoken person, served as challenges that only Anushka herself could conquer.
Thrown into the deep end, she scoured through the existing documentations to research and reached out to her network of colleagues, letting her naturally inquisitive and ready-to-learn personality shine. Anushka loves taking on challenges and applying skills to solve complex problems, and believes that this helps with self-development. True enough, when Singtel presented such an opportunity and challenge to learn and grow, she grasped it wholly and proved herself to be worthy of a Management role.
Amazing People, Awesome Impact
"Teamwork is crucial for any project to be successful; and you are never too old to learn new things"
Anushka shared her biggest takeaway from Singtel Management Associate Programme as she reflected on her journey in Singtel, showing great appreciation for her teammates.
She thanked Marcus and TJ, her indispensable colleagues who supported and answered all questions during her work on Project Marvel. She also thanked Shilpa, her manager, for her advice and guidance, and Shalv, her work buddy who helped her navigate the initial Singtel journey. Not forgetting Anshul, Michelle and all the other colleagues who mentored her, and whom she collaborated with on the various projects throughout her time in Singtel.
Anushka's daily work schedule revolves around daily stand-ups with the business and IT teams, data analysis and visualization, and understanding user pain points to design enhanced processes and experiences. Being passionate about work and having fun with the team, is what the #SingtelLife is all about. A well-bonded team coupled with purposeful work is what makes work significant, relevant and never dull.
An alternate timeline
"Networking, communication and asking the right questions is as important as doing your work diligently and on time."
A golden word of advice that Anushka wished she got at the start of her career. Being proactive, having open communication, and doing impactful work is what it takes to be an asset to the company. One thing she never regretted is joining the Singtel Management Associate Program.
"Singtel MA program provides an opportunity to explore yourself and your career, with a good foundation for working in the corporate landscape."
We empower fresh graduates with the choice of business units of their interest, provide curated courses and mentoring sessions that nurtures and allows you to kickstart your career.
To discover yourself and grow professionally, join Singtel's Management Associate Programme for an experience of a lifetime.
Just graduated? Looking for a job where you can learn, grow and make an impact?
Join the Singtel Management Programme, a two-year accelerated programme designed to groom graduates and young professionals.
Application for MAP is now open. Join us today.